Con­nect­ing with the Body's Power to Heal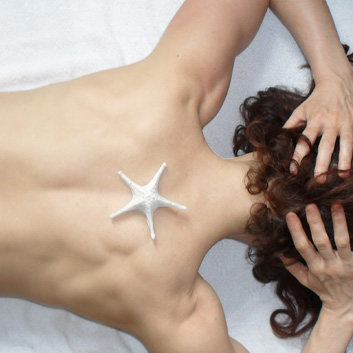 Cran­iosacral ther­apy is a gen­tle hands– on ther­apy that brings deep relax­ation and reju­ve­na­tion to both body and mind. This ther­apy uti­lizes the phys­i­o­log­i­cal rhythm that comes from the move­ment of the cere­brospinal fluid cre­at­ing var­i­ous pres­sures on cra­nial bones and along the spine. Cran­iosacral ther­apy man­i­fests sig­nif­i­cant changes in the body, in the mind's atti­tude, in feel­ings and behav­iour by its' imme­di­ate con­tact with the cen­tral ner­vous system.
Dur­ing a ses­sion the receiver may remain fully clothed as the Cran­iosacral ther­a­pist uses a light touch for the release of restric­tive pat­terns held in the body. Though the ther­a­pist may facil­i­tate direct releases, the main role of the cran­iosacral ther­a­pist is to fol­low the move­ment of the body's tis­sues and mon­i­tor the rhythm in order to sup­port the body's nat­ural mode of self– heal­ing. Thus the body's wis­dom is honoured.
Cran­iosacral ther­apy can ben­e­fit the body in numer­ous ways because of its influ­ence on the cen­tral ner­vous sys­tem. Results vary from increased phys­i­cal mobil­ity, pain relief and deep relax­ation. And it is a won­der­ful heal­ing tech­nique to add into a mas­sage session.
Some con­di­tions treated include:
Onyx has stud­ied Cran­iosacral ther­apy with the Upledger Insti­tute and sev­eral promi­nent Cana­dian teach­ers. She has teacher assisted for the Cra­nial Cen­tre, Toronto on numer­ous occasions.
Migraines and headaches
Chronic Ear infections

TMJ

dys­func­tion
Chronic neck/back pain
Tin­ni­tus
Sports injuries
Anx­i­ety
Surgery preparation/recovery
Trau­matic phys­i­cal injuries
Emo­tional trauma/difficulties
Autism