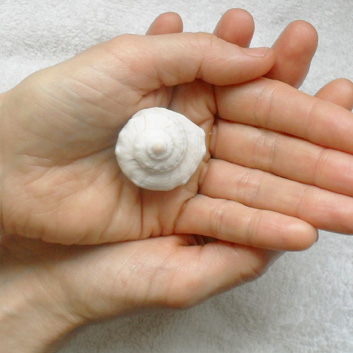 Energy Heal­ing sup­plies the body with Life force energy, enabling the body to reju­ve­nate at a quicker rate, calm­ing the mind, refresh­ing the spirit. A gen­eral expan­sion of one's energy field can be expe­ri­enced. Energy heal­ing addresses stress, anx­i­ety, depres­sion, and is use­ful when recov­er­ing from an ill­ness, liv­ing with a chronic con­di­tion, for pre/post surgery sup­port, and when under­go­ing any chal­leng­ing life tran­si­tion. Descrip­tions of the var­i­ous types of energy heal­ing offered are detailed below:
Reiki
Orig­i­nat­ing from Tibet, Reiki is a gen­tle hands– on ener­getic treat­ment to bal­ance and restore vital­ity to the mind, body and spirit. Reiki works on the body's main ener­getic cen­tres– charkas– as well as other areas of the body. The energy that is called for in those areas is drawn through the open chan­nels of the prac­ti­tioner to the client. Reiki raises the vibra­tions of the energy field in and around the phys­i­cal body and breaks away blocked energy. Reiki helps life force energy to flow in a healthy and nat­ural way.
Recon­nec­tive Heal­ing and The Reconnection
Recon­nec­tive Heal­ing car­ries spe­cific fre­quen­cies that recon­nect us to the full­ness of the uni­verse as it recon­nects us to who we are. These fre­quen­cies are of a new band­width brought in via a spec­trum of light and infor­ma­tion. The intent of Recon­nec­tive Heal­ing is heal­ing on all lev­els; phys­i­cal, men­tal, emo­tional, and spir­i­tual. Where one is out of bal­ance and presently a heal­ing is called for, the fre­quen­cies then attend to this area. One to three ses­sions is the usual time frame to expe­ri­ence Recon­nec­tive Healing.
The intent of The Recon­nec­tion is to bring us into the full­ness of our inher­ent con­nec­tion with the uni­verse. The sacred geom­e­try of The Recon­nec­tion is com­pleted in two ses­sions though a brief intro­duc­tion ses­sion before­hand may be nec­es­sary to pre­pare for the link­ing of one's energy field to the greater axi­a­tonal energy field/grid.
The two processes of Recon­nec­tive heal­ing and The Recon­nec­tion cross over to a cer­tain extent, but are to be expe­ri­enced on sep­a­rate occasions.
Energy Med­i­cine from Egypt­ian Mys­tery School Teachings
This study of energy work, from Patri­cia Langer's School, offers hands on heal­ing that raises the body's energy level in order to assist in mov­ing beyond pat­terned con­di­tions and reac­tions. The work intends to bring heart and mind together for the cre­ation of a greater inter­nal capac­ity to flow with Life's beauty and chal­lenges. One is thus brought deeper into their life and towards their bliss. Onyx stud­ied for five years with this school, in study cir­cles and on retreat.
Besides hands– on heal­ing, var­i­ous exer­cises may be given to fur­ther facil­i­tate the heal­ing process.